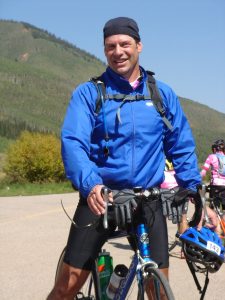 Barry Broutman is a certified personal trainer with twenty two years of experience. Barry was a senior personal trainer at Lakeshore Athletic Club for thirteen years and also spent two years volunteering his time at U.I.C Sports Rehab Institute. He has taught health and fitness workshops at various institutions in the Chicagoland area; including Parker School, U.I.C. Department on Aging, United Airlines.
Barry's clientele range from people 25 to 88 years old. From corporate executives, athletes, post rehab, baby boomers, older adults and everyone in between. People who want to get into shape, improve their tennis or golf game, learn how to exercise correctly for their specific medical condition or learn how to reduce their chance of falling. Barry specializes in core training, balance and fall prevention training, weight loss, post rehab and general fitness.
An avid bike rider, Barry has participated in numerous century bike rides and the Ironman Steel Head Triathlon as part of a relay team. His love of travel takes him around the globe but most often finds himself on islands of Hawaii. He is happily married and loves playing with their nine year old Labrador Retriever. Private training at a training studio in Chicago as well as in-home and in-office training for individual clients in the city and suburbs.